Verify Email Address online For Free
Want to verify the email address is spam or real then use email address verification Tool to check Email address is exist or not at real-time. This tool check email deliverability, Format, Domain, SMTP without sending any mail to the user. This Email Verifier helps you to identify invalid email addresses and reduces bounce rate, so you don't waste time and money on sending to non-existent email addresses.
---
About Verify Email Address online Tool ?
Who says you have to spend some money to check whether the email address is valid or not?
There are tons of free email verifier tools available on google, That can help you to verify email addresses online for free. Sure, you may know of some, like help SEO tools, but there are many more email address validator tools available online.
Process of email validator online tools ?
Help seo tools have a high-powered email verifier tool designed to help to check if an email exists or not. There are multiple processes this email validator follows to verify the email address is valid, exist or spam. Email format, Domain information and authority, SMTP Mail servers base of professional email addresses.
How does a backlink work?
Whenever you get the backlinks from the High DA PA DoFollow Backlink website then it impacts on your website positively and trustfully as well your site's ranking improve search visibility day by day based on the backlink quality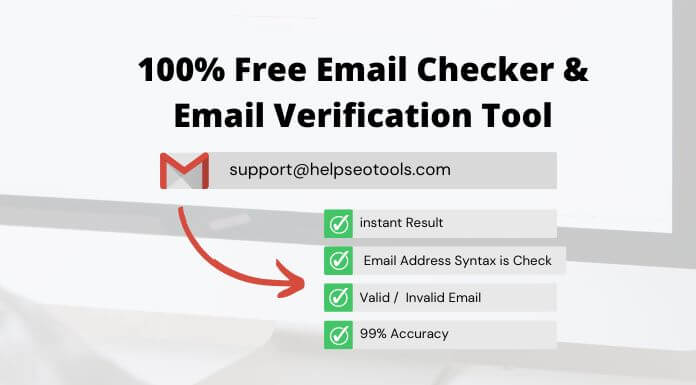 Free unlimited email address verifier online
help seo tools has many different types of Seo tools that can help you to improve your online presence . First of all, we talk about how to verify email addresses. So the answer is so simple, you just need to put the email address on the above input box and hit the verify button. This tool automatically verifies if the email address is valid or not without sending an email.
Online email address validator Features :
Formatting and Syntax – Checks email address has universal formatting standards.
Domain, DNS and MX Check – To confirm that entered email address points to valid, active domain name.
Mailbox Confirmation – Detects email addresses that don't have a valid mail exchanger.
Free email provider check – Want to avoid free email providers from your mailings.
Frequently asked questions
With help of email verifier online tools, you can easily verify that the email address is valid or not. Just you need to enter the email address which you want to verify and after that click on the verify email address button. You will get the real-time result with the proper details that email address is valid or not.
Are you looking to verify an email address for free , You've come to the right place! Use
Help SEO Tools email address validator
to verify email address is exists of not without sending any kind of email.