PPF Calculator Post Office online
Planning your financial future is a critical aspect of securing a stable and stress-free life. One popular financial tool that can aid you in this endeavor is the PPF Calculator Post Office. In this Post Office PPF Calculator makes it easy for you to calculate return and interest on your PPF investment. You can use the online ppf calculator to calculate complex figures easily because it is difficult to estimate the ppf return manually
Calculator Fast-forward of your inverst using this PPF Calculator online tool by Help Seo Tools.
There are no records to display
This Tools is Helpful to You?
---
About PPF Calculator Post Office online
Planning your financial future is a critical aspect of securing a stable and stress-free life. One popular financial tool that can aid you in this endeavor is the PPF calculator. Investing in PPF can be a bit confusing if you're not sure how much to invest or how much return you'll get on investing a certain amount. Our PPF calculator can help. To calculate the returns, the calculator takes the tenure and the prevalent interest rate into account once you decide how much you can afford to invest on a regular basis.
How to Use the PPF Calculator?
Have you ever wondered how your investments could grow over time? A PPF calculator can provide you with a clear picture of your potential returns when investing in a Public Provident Fund (PPF).
Post office PPF calculator
The Post office PPF calculator, easily accessible online, empowers you to make informed decisions about your savings. It simplifies complex calculations, allowing you to see the bigger financial picture without the need for specialized knowledge in financial mathematics.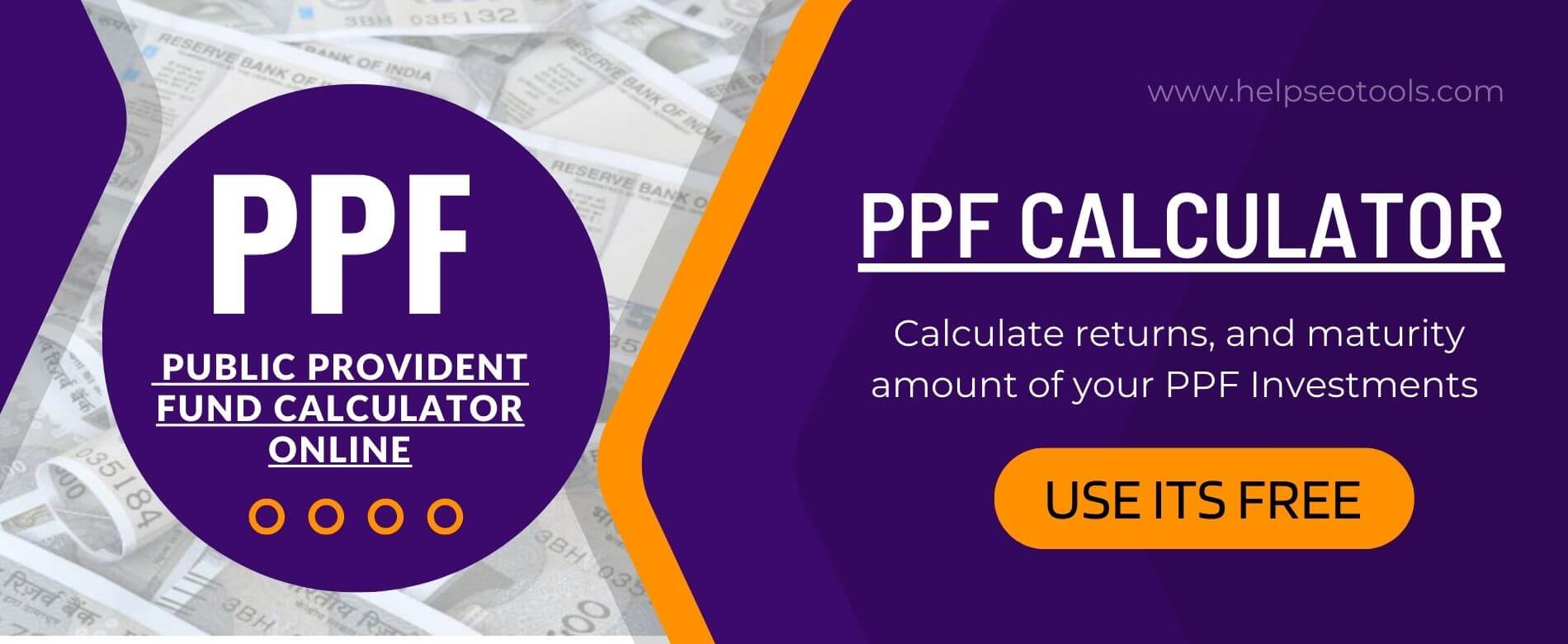 How can a PPF calculator help you?
Gather Your Information: Before you start using a PPF calculator, you need a few essential pieces of information. You'll need to know the amount you plan to invest initially, the tenure (in years) you intend to keep the investment, and the current PPF interest rate.
Access a Reliable PPF Calculator: To begin, visit a trustworthy PPF calculator available online, such as the one on "helpseotools.com." These calculators are designed to provide accurate projections based on your inputs.
Input Your Data: Enter the initial deposit amount into the calculator, followed by the tenure of your investment. Most PPF calculators allow you to choose between monthly and yearly contributions, so ensure you select the appropriate frequency. Finally, input the current PPF interest rate.
Calculate and Analyze: Once you've entered all the necessary data, click the "Calculate" button. The PPF calculator will then generate a detailed report that outlines the future value of your investment. This report will include both the maturity amount and the interest earned.
Plan Your Investment: Armed with the calculated projections, you can now make informed decisions about your investment. You can adjust the initial deposit, tenure, or contribution frequency to see how different scenarios may impact your returns.
Stay Updated: Remember that PPF interest rates can change annually. To ensure your financial planning remains accurate, revisit the PPF calculator periodically to make adjustments as needed.
Frequently asked questions
Is the PPF calculator on helpseotools.com free to use?
Can I use the PPF calculator for multiple scenarios?
Are the calculations from the PPF calculator accurate?
Can I save the results from the PPF calculator for future reference?
How often should I revisit the PPF calculator to update my investment plan?