Bulk Domain Age Checker Of any Website Online Free Tools
Bulk domain age checker tools allow you to analyze multiple domains age simultaneously, saving you time and effort compared to checking each domain individually. With the help of help seo tools you can analyzing the age of multiple domains, you can uncover valuable opportunities for domain acquisition.
Domain Age Checker, Put any number of domains and get the age of any domain, as well as the history and authority of the website.
---
About Bulk Domain Age Checker Free Online Tools
Bulk Domain Age checker - An free online tool to check domain age of any website just on single click. 100% free tool, no registration required. Put the Domain & check age of a website. Understanding the age of a domain can help website and SEO professionals make informed decisions about their online presence.
What is Domain Age?
Domain age refers to the length of time a website has been registered and active on the internet. It is an essential factor that search engines, like Google , consider when ranking websites in search results. Older domains often enjoy higher credibility and trustworthiness, as they have stood the test of time.
Benefits of Domain Age Checker Tools
Assessing Website Credibility: By using domain age checker tools, you can quickly evaluate the credibility of a website. Older domains tend to have a higher level of trust among users and search engines, which can positively impact their search rankings.
Identifying Valuable Domains: Domain age checker tools help in identifying valuable domains that are already established. This information can be useful for individuals or businesses looking to purchase existing domains with a solid history.
Planning SEO Strategies: Knowing the age of your domain and that of your competitors can help you plan effective SEO strategies. It allows you to benchmark against similar websites and make informed decisions regarding content creation, link building, and overall optimization efforts.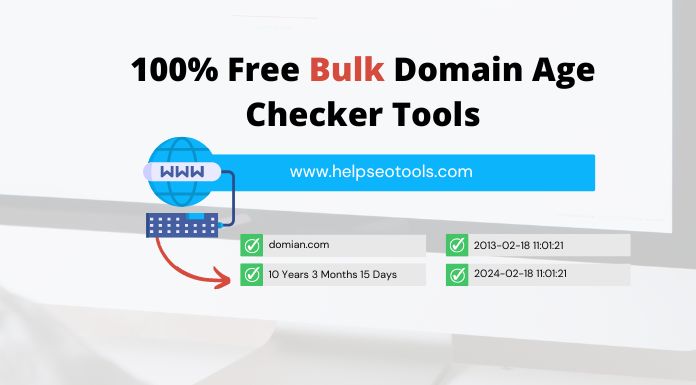 Using Domain Age Checker Tools ?
Using domain age checker tools is simple and straightforward. Follow these steps:
Choose a reliable domain age checker tool such as Help Seo Tools domain age checker.
Enter the domain name you want to check into the provided field or box.
Click on the "Check" or "Check Domain Age" button to initiate the domain age analysis.
The tool will display the registration date or age of the domain, providing you with valuable information about its history.
Frequently asked questions
Is domain age important for SEO?
How to check the domain age of a website?