Open Multiple Links or URLs at Once Click.
If you have multiple website links to open every day when you begin working, it could be time consuming, Fortunately for you, we have build a Bulk url opener tool to open multiple links in less than a second. which makes it convenient for you to open multiple links in chrome or firefox at single click.
Input as many urls as you want in the text area below, click on the "Open Multiple urls" button. That will help you do this.
---
About Free Bulk URLs Opener Tool?
This tool able to open bulk url in chrome very fast without hanging your browser. Just you need to enter list of urls separated by commas or separated by per line into text area box and after that you can choose some open url options and then click on "open multiple urls" button. You will see all URLs will autometicly open into tabs.
Open 100+ Website URL at One Click. Best Tool For Open Multiple URLs In Chrome or firefox browser.
Bulk URL opener is a simple web tool website, that will help you to increase your productivity as well as save you time. This tool can open 100+ website links with just a single click. you can also Copy and paste the list of URLs from your document, spreadsheet, excel file and any web content.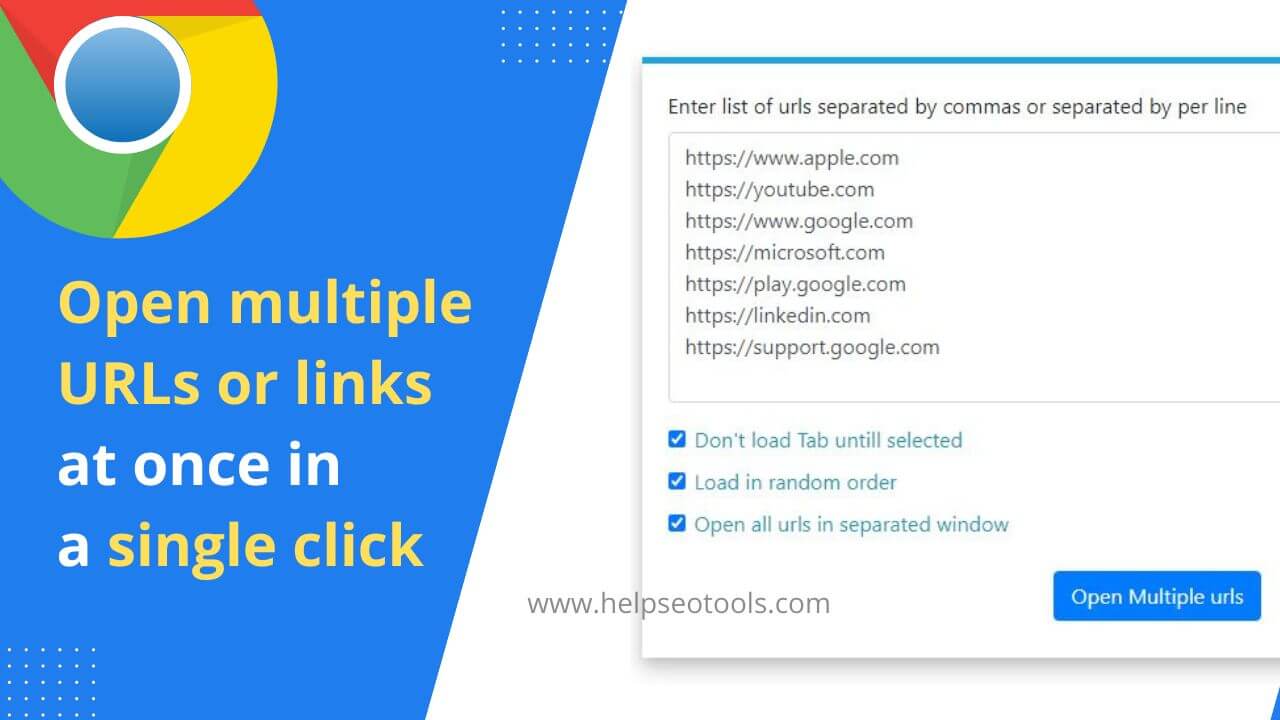 How to Extract url from text
If you have chunk of text containing multiple urls, then with the help of this tool you can also extract the all URLs from the text or string content and converts it to clikable links.
How you can use multiple URLs opener tool
It is too easy to use the URLs opener tool, what you have to do is just Enter the list of URLs in the text area separated by newlines or separated by commas, Once the URLs are entered then just click on the "Open Multiple URLs" button to get the currently opened tab URLs.
Key Features of Bulk Urls Opener :
Open the multiple URLs at one click.
Save List of URLs, edit/update and delete lists of URLs.
Allows the user to open Links URL from the list of URLs with a specific time delay.
Focus opened tabs: Open Urls when you click on Tab.
Frequently asked questions
open multiple urls at once is pretty so simple, use this free Multiple URL Opener web tool to open all of the URLs at once without having to open one by one. just