Number to Word Converter Online In Indian rupees
This powerful tool will help you to convert your cheque number digit to Indian repress words for free. To use this converter just need to enter any number into the text box below and then select your country currency from the drop-down list. After that click the "Convert no to word" button the result will be displayed in seconds.
---
About Numbers to Words Converter Online Tool?
You can use this online Number to Word converter tool to convert any numbers into words with just one single click. This tool will help how to write figures in words. Just you need to enter the number amount digits into the box and then click on the convert button. So simple
A simple tool for converting numbers to readable strings is the Numbers to Words Converter. Convert, Copy, and Paste. The purpose of this tool is to make it simpler to read and comprehend numbers.
This tool Converts Number or Amount in words. The amount you enter here will also be converted to words in Hindi and English. It's a useful tool that can assist you with daily tasks. You can get your number converted into words by simply entering the amount and clicking the "Convert number to Words" button. The words that are generated can be copied and used wherever you want.
Example of number to word converter rupees
Numbers
1639919
Output: Numbers to Words
sixteen lakh thirty nine thousand nine hundred and nineteen only
Features:
Any lanrge Number can convert to Word in Indian format
Copy the word with a single click
Choose word text cases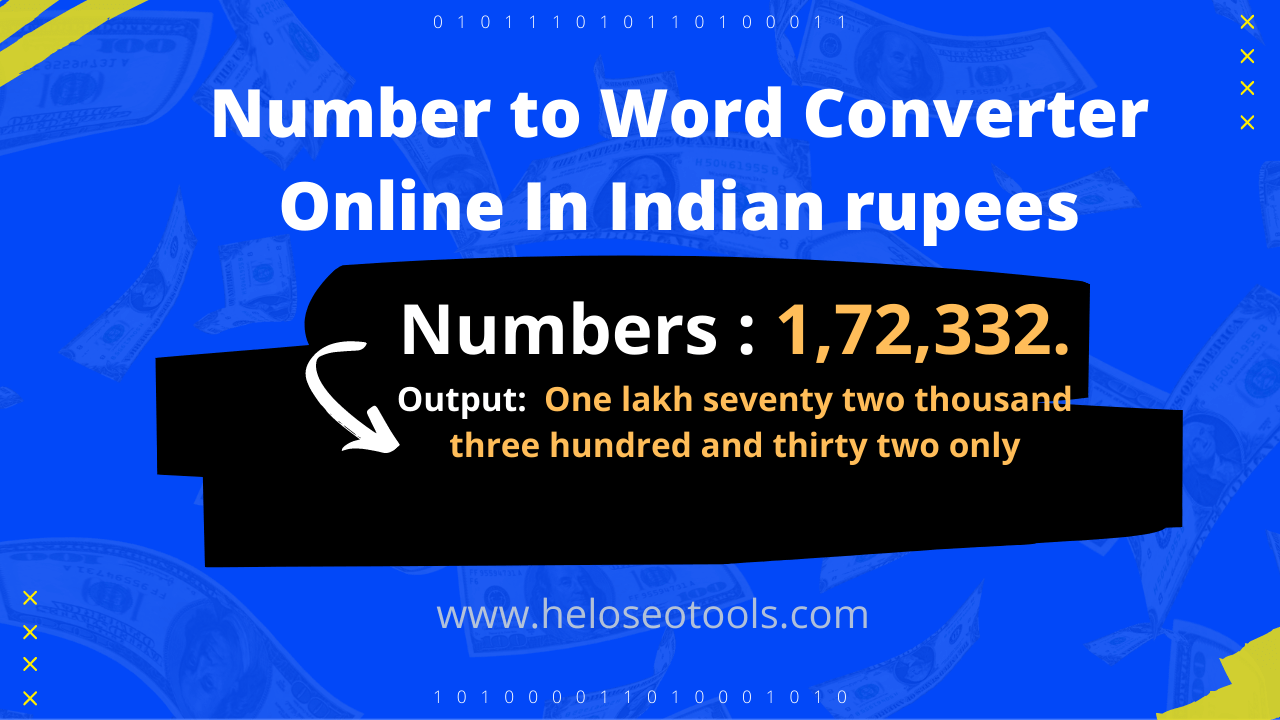 What is a number to word converter ?
A tool that converts numbers into word format is called a number to word converter. Although we typically write numbers in digits, there are occasions when we must additionally write them in words in order to double-check the figure and make it easier to read. The amount must also be written down when writing a cheque in words. With the help of this tool, you may write a cheque.
The result from the aforementioned number to word converter uses an Indian number format instead of an international one. Here, you can read numbers both in English and in Hindi Devanagari.
Number to word converter indian rupees
This translator converts number into words (or numbers to letters, or number to word rupee or amount in words, if that makes more sense). One will show up on the right when you type "1" in the box on the left. See if you can find the largest number that it turns into word form. You'll require more than 1000 digits (hint:In terms of being able to translate biggest numbers into English form, I'm pretty confident this translator is the best numbers to words converter on the entire internet. When I created this tool, I didn't really have any specific use cases in mind, but hopefully you'll need numbers in words format at some point and can use it to help with your issue.