Remove Duplicate Words / Keywords Online Free Tool
This duplicate word removal online too is a 100% Free Alternative to remove keywords as well. It is simply a Free Remove Duplicate Words online. This free tool also able to remove duplicate keywords or repeating keywords very esaly. Online Tool Helps You to automatically delete the repeating words from the sentences or paragraphs so that you can get the unique keywords list.
---
About Remove Duplicate Words Online Free Tool ?
About this tool, you need to so a simple step to Duplicate keywords Removal, just copy and paste your keywords list into the text box area, and after that Click on the "remove duplicate "buttons to remove repeating or duplicate keywords/words from the text. Results appear inside the same text box.
Help SEO Tools also have a special tool for special characters remover. if you want to remove special characters then you can also use it for free.
Why Remove Duplicate Words online Tool is important?
Remove Duplicate Words online are important because people use them to remove repeating words. For example, if you have a list of 100+ keywords and some of the keywords are repeated too many times, rather then you do it manually go and remove them one by one. these tools help you remove those keywords on just on single click.
Duplicate words remover online Free Tool
Duplicate words can be a major annoyance when writing. They can often be eliminated by using different words or by taking the word out of the sentence. In some cases, however, the duplicate word may be essential to the meaning of the sentence. In these cases, it may be necessary to remove the duplicate word.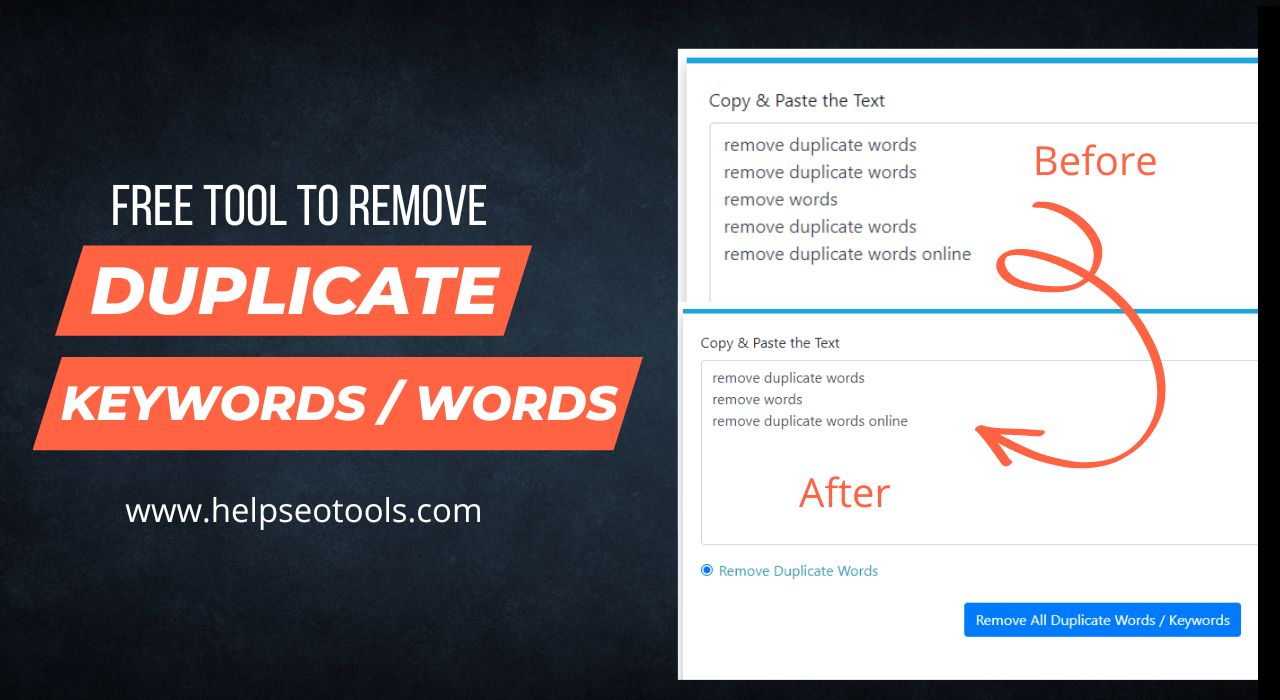 Remove Duplicate Words and Repeated Keywords
With the help of duplicate word remover, you can remove all repeating keywords within a seconds. this removal of duplicate keywords will save you lot of time.
Frequently asked questions
use our free tool to remove the duplicate or repeating keywords form your google Adwords.